Questions to Carriers: Will You Unlock My Phone?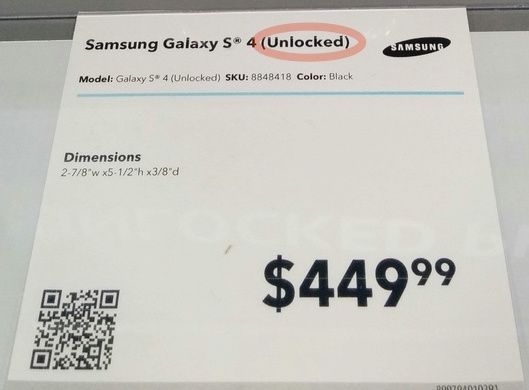 As Americans, we are accustomed to the notion of a two-year mobile phone contract. When cell phones emerged as a new standard of communication, contracts locking you to a carrier were accepted as the norm. Fast forward to today and many people are still using the same carrier that sold them their first phone. One reason is that the phones they purchased throughout the years were still "locked" to their original carrier even after their contracts expired. Or at least that is what carriers want you to think...
Over the years the Cellular Telecommunications Industry Association (CTIA), Federal Communications Commission (FCC) and Congress have gone back and forth on the idea of "unlocking" phones from their respective carrier.
For a not so brief overview of that back and forth, keep reading. Or check out the lovely timeline we created. Below, you can see consumers have had the right to "unlock" their mobile device from their carrier since back in 2006, although figuring out how to do that so wasn't at all obvious. Finally, almost 10 years later, consumers have the right to ask carriers to unlock a device for them. So what took so long?
![timeline](/blog/content/images/2015/07/Untitled-Infographic.jpeg)
In 2006 and again in 2010 the Library of Congress made regulatory exemptions (and modifications to prior exemptions) in the Digital Millennium Copyright Act, which gave consumers the right to use software to "unlock" their phones if:
(2006) "...circumvention is accomplished for the sole purpose of lawfully connecting to a wireless telephone communication network."
(2010) "...circumvention is initiated by the owner of the copy of the computer program solely in order to connect to a wireless telecommunications network and access to the network is authorized by the operator of the network."
Although the DMCA was amended to give consumers the ability to lawfully bypass having their device locked to a carrier, this was not widely known by consumers nor done for consumers by carriers. In fact, carriers still legally distributed locked phones the years following both exemptions.
Regulatory exemptions are upheld for three years, then revisited for re-examination and/or renewal by the Copyright Office and Librarian of Congress. In October 2012, the Library of Congress decided that the above exemptions would be removed from DMCA, meaning "unlocking" your phone from your carrier would become illegal once again.
![We The People](/blog/content/images/2015/07/We_the_People_logo.png)
On January 26th, 2013, the 2010 exemption officially expired. Two days prior, a petition was submitted by Sina Khanifar to "We the People", an open online forum implemented by the Obama Administration to easily allow citizens to petition the government. Khanifar submitted a petition entitled "Make Unlocking Cell Phones Legal", which received over 114,000 signatures; meaning a response from the government was required.
This prompted Congress to revisit the previously tabled "Unlocking Consumer Choice and Wireless Competition Act" submitted by the Senate in the Spring of 2013. The Act was amended and passed by the U.S. House of Representatives in February 2014.
That same month the CTIA adopted the "Consumer Code for Wireless Service". The code set out six standards by which major mobile wireless carriers must give consumers greater freedom and flexibility, including "unlocking" phones. These standards were to be met by the participating carriers by February 11, 2015.
While the previous DMCA exemptions gave consumers the right to use software to unlock their device from their carrier. The new code implemented by the CTIA, required carriers to unlock devices for consumers upon request, as long as customers met predetermined requirements.
"(2) Postpaid Unlocking Policy. Carriers upon request, will unlock mobile wireless devices or provide the necessary information to unlock their devices for their customers and former customers in good standing and individual owners of eligible devices after the fulfillment of the applicable postpaid service contract, device financing plan, or payment of applicable early termination fee.
(3) Prepaid Unlocking Policy. Carriers, upon request, will unlock prepaid mobile wireless devices no later than one year after initial activation, consistent with reasonable time, payment or usage requirements."
On July 28, 2014, Obama signed the Act into law, and the "Unlocking Consumer Choice and Wireless Competition Act" became an official US law on August 1, 2014. The law cemented the fact that all major wireless carriers must comply with the CTIA's code by 2015, giving consumers the freedom to keep their device, without keeping their carrier.
What does this mean for consumers today?
![Unlocked Phone at Best Buy](/blog/content/images/2015/07/img_20150724_104158_1024.jpg)
Although all carriers must now allow consumers to "unlock" their devices, it is still not widely known or widely practiced. The fine print of all four major carriers give instructions on "unlocking" devices from their networks.
It is important to know that although carriers by law must "unlock" consumers' devices, most carriers only do so upon request. While more and more mobile device distributors, such as Best Buy, are selling unlocked phones, many carriers will still sell "locked" phones forcing consumers to request an "unlock". And they don't all make that process comfortable or easy.
What is so important about "unlocking"?
The process of unlocking allows consumers to choose which carrier and plan makes sense for them without purchasing a new phone. With the future of #dataonly on the horizon, unlocked phones allow consumers to jump around to the best plan available at any given time.
Gone are the days of worrying about roaming while traveling, lower rates on other carriers and/or being stuck with the same phone for 2 years. With unlocked devices consumers have the power to purchase local plans in foreign countries while they travel, jump to the cheapest prepaid plan they can find and buy the phone they want without signing on to a new contract. In short, an unlocked device gives a consumer maximum freedom and flexibility.
"Unlocked" devices are the first steps towards the "contract-less" future. Don't you want the power to choose?
Stay tuned to Questions to Carriers, next week we will dive into the hardware on our mobile devices. Do you think mobile phone hardware is compatible across all networks?